Following their fallout, Jan-di tries to find Jun-pyo at school, and finally comes upon him as he exits school; he spots her and pauses for a moment. She gives him a tentative smile — but he turns away and leaves in his chauffeured car.
Jan-di chases, calling for him to stop, then grabs her bicycle to pedal furiously to his mansion.
She's so fast (and superhuman?) that Jan-di arrives at the mansion just as Jun-pyo's car does. He tries to push past her, but she insists on saying her piece, even if he doesn't want to hear it.
Jan-di blocks his way inside, prompting him to run the other way. She ends up chasing him around his front yard, which is pretty cute.
Jun-pyo manages to slip into the driver's seat of the car and drive off, leaving Jan-di shouting after him. (He can't be SO mad if he can still find satisfaction in sticking out his tongue at her, methinks.)
Just then, a sleek white sports car pulls up, the window rolls down, and a glamorous woman (the gorgeous Kim Hyun-joo) tells her, "Get in." Dumbfounded, Jan-di gapes, but the woman tells her to hurry: "You're trying to catch that guy, right?"
Jan-di rides shotgun as the white car weaves in and out of traffic, tailing Jun-pyo. He tries to shake off his pursuer, but she maneuvers her car with smooth control and forces her way in front.
Finally, she cuts Jun-pyo off, making him pull over suddenly and stop.
Jun-pyo emerges from his car, ready to give the woman hell, but she grabs a wooden kendo sword (because we all carry those around?) and starts toward him purposefully. And because PD Jeon cannot leave a perfectly good moment as it is, he ruins this by having her leap into a CARTWHEEL AND BACKFLIP before she uses the wooden sword to hit Jun-pyo, taking him to task for his rudeness: "Who taught you to treat women like that?"
Jun-pyo protests, "Sis, you don't even know what you're talking about," but he does quiet down and defer to her and her big wooden stick. This is Gu Jun-hee, just arrived from America, who takes an immediate liking to Jan-di.
Jun-hee apologizes to Jan-di on behalf of her rude younger brother, then tells Jun-pyo to drive safely and meet them back at home, ignoring his insistence that Jan-di is banned from their house.
Jun-pyo refuses to join everyone for dinner (which he later regrets when he's dying of hunger), leaving F2 and Jan-di to fill Jun-hee in on news.
Jun-hee asks if the other two agree with Jun-pyo's intent to kick Ji-hoo out of F4. Woo-bin doesn't, and Yi-jung starts to qualify his answer (he's a little more sympathetic to Jun-pyo), but Jun-hee cuts him off, figuring that it's clear that Jun-pyo's the only one pushing the breakup of F4. She urges Jan-di to eat up to prepare her strength "to fight that idiot." (FYI, Jun-hee does beat up on her brother several times, but she does it with some affection — and exasperation — so it doesn't come off mean-spirited.)
When Jun-hee drops Jan-di off at home, Jan-di wonders why Big Sis is being so nice to her. Jun-hee replies that their mother always said that people like them had no use for friends. With such an upbringing, the fact that Jun-pyo was even able to find friends in F4 was nothing short of a "miracle." This reminder at their broken friendship makes Jan-di apologize for causing the rift.
Jun-hee isn't too worried, though, and thanks Jan-di: "You opened the door to turning that kid more into a human being." After all, friendship will help get him there, but love is even more essential.
At Ji-hoo's request, Jun-pyo meets him in what I suppose is Ji-hoo's private movie theater, where he's watching The Three Musketeers. By way of conversation, Ji-hoo asks, "Do you remember how many times we've seen this movie together? Must be at least ten times."
Jun-pyo seems to relax a tiny bit when Ji-hoo says, "I'm sorry. I don't expect you to stop being angry just because of an apology. But…"
Jun-pyo: "But?" Ji-hoo: "Leave Jan-di alone."
Jun-pyo seems like he may have wanted to reconcile (given the right approach), but mentioning Jan-di is exactly the wrong thing to say. Jun-pyo hardens: "And if I don't?" Ji-hoo: "I'll protect her."
At that, Jun-pyo angrily gets up to leave, clenching his fist. Without looking at Ji-hoo, he says, "It's eleven times. If you'd remembered we were friends who'd seen that movie together eleven times, maybe this wouldn't have happened." (Oh, snap.)
So Jun-pyo's plan to evict his best friend remains intact: He's in the middle of intimidating the school headmaster into expelling Jan-di and Ji-hoo when Jun-hee bursts in. If he fires the teacher, after all, she can hire the next.
Grabbing Jun-pyo by the ear, she forces him out of the room, then tells him, the F4 guys, and Jan-di to follow.
Back at home, Jun-hee makes her proposal: Jun-pyo and Ji-hoo can work out their spat through an organized athletic competition. (Because sporting wins heal wounded hearts?) This way, they'll both have to acknowledge the winner and abide by the outcome, putting a clear end to the fight. If Jun-pyo wins, he gets to expel Ji-hoo and Jan-di. Ji-hoo, then, is fighting to keep them both in school (and himself in F4).
To make it fair, they will choose randomly from ten possible sporting categories, some in which the guys are trained and some in which they are not. Best of three wins, and participants must agree to respect the outcome.
(As a plot device, I don't mind the competition, but who else thinks it's hilarious that they'd agree to settle a love triangle via sports? It's almost as ridiculous as deciding a faux monarchy via sports — I'm lookin' at you, Goong S.)
Jun-pyo protests, but he's outnumbered by everyone else (who have been convinced by Jun-hee ahead of time). Jan-di, Ji-hoo, and Jun-pyo each pick a different ball from the lottery-style machine, and the first test is revealed (Jun-pyo's pick): Horseback riding.
This is Ji-hoo's area of expertise, and he is heavily favored to win. Knowing he's at a disadvantage, Jun-pyo pushes himself to train for the event in the two days preceding the competition. Ji-hoo, meanwhile, picks out his horse but doesn't train. (Reluctant, or just confident?)
On the day of the race, everyone heads out — Jun-hee, Jan-di, F4, and their Shinhwa classmates — to the equestrian center. The race starts inside the arena, then heads outdoors.
After a lap indoors, Ji-hoo is leading as they approach a forking of the trail, one side marked safe and the other indicating danger. As he cannot catch up to Ji-hoo on the safe trail, Jun-pyo heads off on the other one, urging his horse up steep, hilly ground even when the horse balks, and ignores his trainer's warning not to push too hard.
Back inside the arena, everyone waits for the racers, fully expecting to see Ji-hoo leading. Unexpectedly, Jun-pyo gallops in first.
Ji-hoo takes the loss gracefully enough, treating Jan-di with calm good humor when she comes up to him afterward. She pets his horse — which is named Rui — and feeds it a treat affectionately. Ji-hoo offers to take Jan-di on a ride, and leads her on the horse outdoors.
I know it's supposed to be sweet/fun that Ji-hoo's horse is named Rui, but that just opens up a whole world of inappropriate double entendres, yunnowhatimean? Maybe I should've kept that to myself.
On the other hand, Jun-pyo may have won, but his horse has suffered for it. Hearing that his horse won't ever race again, he's overwhelmed with guilt for being so aggressive with the animal.
Jun-hee tells him, "You may have won this game, but you lost the battle, little bro. I really hope you learned something from today" — because if he didn't, the horse will have suffered for nothing.
The second competition tilts the advantage the other way, because now Jun-pyo is the clear favorite: racecars.
It's not merely that Jun-pyo is a good racer, but Ji-hoo struggles even to drive, haunted by memories of the car crash that killed his parents. He suffers nightmares of that night and has difficulty just getting behind the wheel.
Knowing that victory is nearly within reach puts Jun-pyo in a fantastic mood. Yi-jung and Woo-bin feel uneasy about the obvious imbalance of skills, but Jun-pyo doesn't even feel this is unfair, since Ji-hoo picked this challenge. Plus, Jun-hee stipulated that they must abide by the contest parameters no matter what the tasks turn out to be.
Jan-di learns of Ji-hoo's disadvantage from the Jin-Sun-Mi trio, who tell her to pack her bags because there's no way Ji-hoo will win this battle. Jan-di assures them that it ain't over till it's over: "I have faith in Ji-hoo." (At this point, I wonder if the drama has slipped up in achieving the right balance, because I have to side with Miranda — and siding with a Mean Girl can't be right — who calls her out for lacking principles. She reminds Jan-di that not long ago, she was talking to Jun-pyo about trust and faith (regarding the hotel photos), and now she's blabbering about believing in Ji-hoo. Girl does seem fickle.)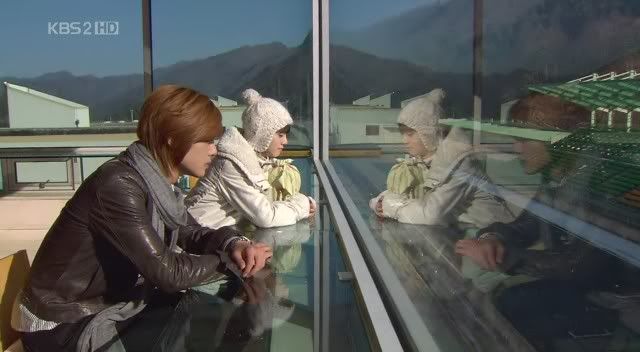 Fearing for Ji-hoo's safety, Jan-di drops by the racetrack where Ji-hoo is watching Jun-pyo zoom around the course below. Hesitantly, she asks how he got his driver's license, and he explains that Seo-hyun had taught him. He'd hated it, but embarrassment over failing pushed him to learn how to drive enough to get a license.
Jan-di cautiously suggests that Ji-hoo not participate in the race — it's not like she wanted to go to that school in the first place. Ji-hoo says firmly, "I don't know if I can win, but I'm going to do my best."
Seeing that Jan-di has brought him some rice porridge from the restaurant, he asks to try it. Down below, Jun-pyo glances up to see Jan-di and Ji-hoo looking chummy together and suddenly swerves, his car spinning out of control. At the sound of screeching tires, they look over in alarm — but I dunno, there's something about Ji-hoo's smirk as he continues calmly eating his porridge that makes me want to smack him.
Afterward, Jun-pyo fumes. He kicks one racing coach/crew member, hits another, and throws his helmet at a third, saying, "What the hell's wrong with the car?" (I guess they're too scared to answer, "The driver.")
The day of the race, Woo-bin tries one last time to persuade Jun-pyo to give up, while Yi-jung does the same with Ji-hoo. Both are unsuccessful, so the best they can do is tell the competitors to be careful.
Ga-eul worriedly asks Ji-hoo if he's going to be all right, hoping he has some kind of secret weapon up his sleeve. At that moment, Jun-pyo walks in, and the two shoot daggers at each other. Ji-hoo tells Ga-eul that he does, in fact, have a secret weapon — and then bends down affectionately to embrace Jan-di.
Jan-di resists a little at his unexpected hug, but he tells her to play along — this may be a cheap tactic but it's all he's got. Jun-pyo watches incredulously as Ji-hoo places a kiss on Jan-di's forehead.
Ji-hoo walks off, thinking, "Jun-pyo, I'm sorry. I want to protect her, even if it's like this."
With that scene playing in his head, Jun-pyo takes to the track, trailing Ji-hoo at first. Amazing at how Ji-hoo's debilitating fear of driving is miraculously cured! He's even leading for the first half of the race.
But Jun-pyo's mind involuntarily flashes back to the kiss, and in that second of distraction, he veers off course and skids, allowing Ji-hoo to zoom ahead to the finish line.
If Jun-pyo lost the first test of sportsmanship, surely Ji-hoo loses this round?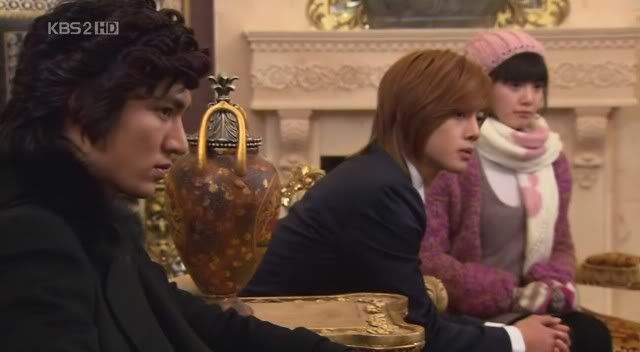 Now, the third test. A bit expectedly (for us), Jan-di's selection turns out to be swimming — which practically guarantees a Ji-hoo win. Flustered and panicked, Jun-pyo refuses to participate. Unfortunately, Jun-hee reminds him, if he forfeits, Ji-hoo wins.
Yi-jung speaks up — if this issue is decided because of a forfeit, nobody will feel satisfied. Therefore, he'd like to offer himself to take Jun-pyo's place in the last challenge, if everyone consents. Yi-jung finds it difficult to forgive Ji-hoo's actions, too, and this is his way of making the last game fairer. Jun-hee accepts his proposal, saying that she's okay with it if everyone else is. Jun-pyo immediately agrees, as does Woo-bin.
But Jan-di speaks up too — if Yi-jung gets to take Jun-pyo's place, then she wants to take Ji-hoo's. Jun-hee warns that she'll be given no handicap going against a guy and Jun-pyo argues that she should stay out of it, but Jan-di says this involves her life too. She feels she should participate in determining her own fate.
Jun-hee agrees to the suggestion — then they can make it two-on-two: Yi-jung against Jan-di, Woo-bin against Ji-hoo.
So, they start training.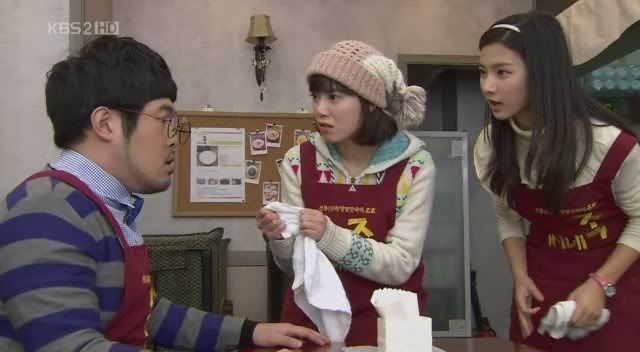 When their kooky restaurant boss (who's always babbling about spirits and aliens) has a dream about the race, Jan-di and Ga-eul eagerly ask about the outcome, grasping at straws for good news. He describes: "Approaching the finish line, you're almost neck in neck. Then, at the moment when a hand is reaching out… everything went dark." (This may be a throwaway bit, or it may mean something, it's hard to say just yet.)
Ga-eul proposes that they resort to underhanded methods — desperate times, and all — like feeding Yi-jung diarrhea medication secretly, or running him over with a bicycle (which, frankly, is a scene I'd like to see. The bike, I mean, not the diarrhea). Their boss puts his foot down and insists she not do anything dishonorable.
That doesn't prevent her from dropping by to talk to Yi-jung, however. Yi-jung guesses that Ga-eul came to ask him to throw the race — she argues that the outcome doesn't affect Yi-jung at all , while Jan-di may be expelled — but he has no intention of doing so. He isn't going to kill himself over this competition, but he's not going to purposely lose it, either.
He reminds her that she doesn't exactly have a right to be so upset at his position: "I warned you that it would be a good idea to stop her."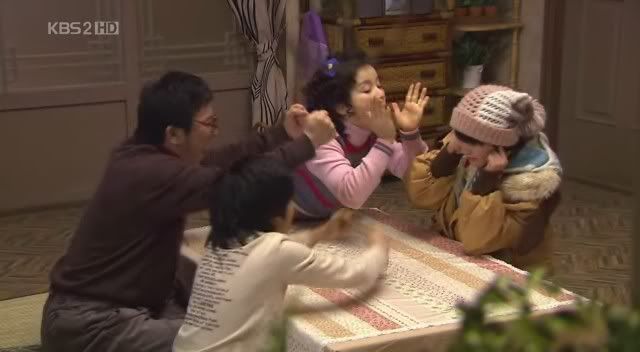 Jan-di's family is appalled to hear that she cheated on Jun-pyo with Ji-hoo and now faces expulsion. She tries to explain her actions, but they're disappointed in her when she confirms the story.
Her father figures she must take after her mother (who tries to shush him) and that based on his experience, when a man has been hurt by a woman two-timing him, the curious thing is, it always helps when the woman apologizes and says she was wrong. They urge her to apologize to Jun-pyo, and for once, they don't seem so ridiculously out of line.
As Jan-di walks outside that night, Jun-pyo pulls up in his car. Hearing that she's on her way to train, he asks, "Do you want to win that badly?"
Jan-di sighs, "We don't have much of a choice." Jun-pyo reacts to her phrasing: "We?"
Frustrated, he asks, "Why did it have to be Ji-hoo? If only it wasn't him…"
Jan-di says his name reproachfully, but he suddenly pulls her to him in a hug. Earnestly, he says:
Jun-pyo: "It's not too late. It would only take one word, if you said that you like me…"